21 Nov

Irish Country Living Magazine – November 2018
Imagined, designed and handcrafted in Donegal.
Irene Bermingham catches up with Bernie Murphy, a textile artist from Donegal, who designs and handcrafts her own clothing range at her home in Buncrana.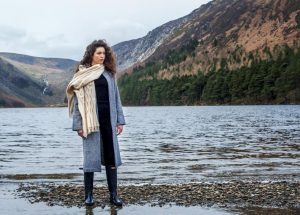 People didn't know me before and now all of a sudden I am here doing an interview with Irish Country Living," says textile artist Bernie Murphy, from Inishowen, Co Donegal.
Having recently partaken in Scéal Kilkenny – a story of Irish Design – Bernie's latest collection, Homelands, was showcased at the Kilkenny Shop, on Nassau Street, Dublin, for a limited time. After working for many years at Fruit of the Loom, the creator finally took the plunge, put pencil to sketchpad, and began designing and making her very own clothing range. Launching her website on her 51st birthday last year confirmed Bernie's arrival back to what she loves most. With customer phone calls coming in from every corner of Europe, Bernie reminisces on what she calls a phenomenal journey.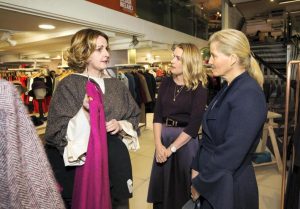 Bernie Murphy meeting Sophie, the Countess of Wessex, on her visit to the Kilkenny shop on Nassau Street
"On leaving school, the local textile manufacturers offered me an internship and then asked me to stay on. To get a job at home in 1984 was just phenomenal, as most of my friends emigrated to the States."
It was long before this, however, that Bernie's creativity was sparked.
"Growing up at home there was always knitting and sewing going on. My mother made all of our clothes. She and her sisters would have knitted for Arnotts and Switzers. But it was my granny who taught me how to crochet. There was always an itchy sweater at hand. You had to stand while she wound up her balls of wool, with fibres going up your nose and it was so annoying, but now when you look back you realise they were lovely moments.
"I remember her taking me in to the local wool shop in Buncrana to get my first pair of needles and wool. Even now walking in, the smell takes me back to the purple wool and green needles that I picked, it is funny how you remember those things."
Preserving those memories is important to the artist, who also understands the necessity of modernising designs.
"I have tried knitted jumpers and other things, but they no longer attract purchasers. I would still like to incorporate them in to my new collection in a small way, maybe by adding some knitted sleeves."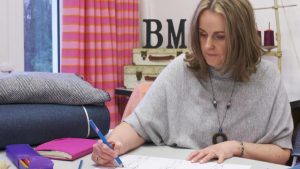 Bernie working on new a collection in her home studio.
While fashion design is alive and well, Bernie has faced difficulty in sourcing skilled dressmakers and tailors: "They have all gone away. Everybody wants to design, but nobody wants to make. They don't realise the skill that is involved in actually making the items."
Adding to this, Bernie advises upcoming fashionistas to attend courses that cover both the design and making elements.
"Go and do a technical course on pattern drafting, cutting room skills and garment construction. Then pursue your degree in fashion. I don't think there is enough of the pattern side. You can design a garment and select your fabric, but you need to have the understanding of the construction and drape of your piece."
Bernie's passion for her home beside the northern coastline of Buncrana is evident in her designs, which incorporate traditional Donegal materials.
"Donegal is home. It is on my doorstep. My collection is imagined, designed and hand-crafted in Donegal. I am inspired most days. I take photos of everything I see. There are patterns in the ripples of the water, the sand on the beach and the trees in the woodlands. In my upcoming collection I want to use more pleating, inspired by the ripples of the sea. I am calling it 'Belonging', because I belong to Donegal and I think the person who wears my garment will feel like they belong to Donegal too."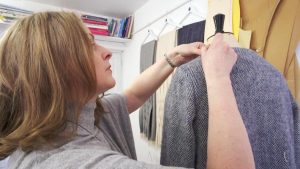 Bernie working on the Magherabeg coat with blue Donegal herringbone tweed.
What is 'on trend' in the world of bloggers certainly does not influence Bernie's designs, as she believes people should wear the clothes that make them feel good individually,
"One blogger admitted online that she didn't really like leopard print, but wore it because it was 'on trend'. I couldn't believe it. She should be saying: 'I don't like it, so I won't wear it'. Don't follow the path, make your own path. Wear what you feel happy wearing."
Speaking about the future of hand- crafted clothing, Bernie is confident that Ireland will continue to inspire people's creativity: "I am constantly learning and blossoming. You have to have a passion for designing and making. I won't say that I have made mega bucks, but you have to take the rough with the smooth and it will come together. There are days when I stand here ready to pull my hair out, of course. But I love manipulating fabric and that is why I call myself a textile artist."
Get the look
1 Magherabeg coat – €295.00. "The Magherabeg coat can be styled to suit any occasion. It can be worn casually with jeans, when rushing to pick the children up from school, or worn to a business evening event with a two-piece suit or a dress."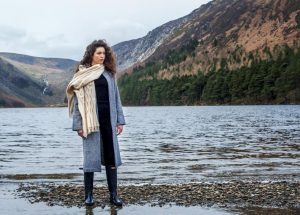 Magherabeg coat, styled with the Donegal hand-pleated wrap.
2 Pink Aileach cape – €385.00. "I have to wait to get more fabric for this piece as it is so popular. It is phenomenal how quickly it sells out. Most women like the nice, rich pink colour. As well as that, it is kind of a heritage style piece that you could pass down to the next generation. It is an investment piece."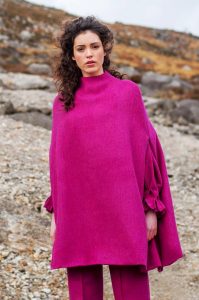 Pink Aileach cape – €385.
Source: https://www.farmersjournal.ie/imagined-designed-and-handcrafted-in-donegal-412587