22 Jan

Independent.ie – January 2018
Buyers wooed by 'made-slow' ethos at fashion show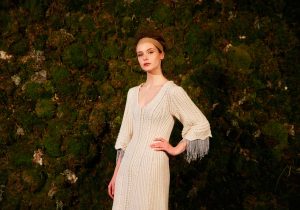 When everything you touch is fast and immediate, there's more power in something made slow.
That's the fashion philosophy behind the MADE/Slow shows at the Showcase trade show, which is on target to pull in orders worth €20m at the RDS over four days.
Respect for fabric and forging a bridge between tradition and contemporary design certainly turned the heads of international buyers yesterday who love the merits and appeal of a hand-crafted garment.
More than 5,000 buyers from 20 countries are attending the creative expo, where 450 Irish designers and craftspeople are unveiling their latest collections.
Among the star performers in the Catherine Condell-styled lunchtime show yesterday was Triona, a fifth-generation tweed clothing brand from Ardara, Co Donegal. Kieran Mulhern's father, Denis, started the brand in 1984, and it is dedicated to maintaining the heritage of Donegal tweed through modern, contemporary design.
Its coats, especially its sleek, grey military tweed coat with rust herringbone tweed epaulettes, were worthy of an international catwalk show and the reaction from the audience was immediate.
Also from Co Donegal, textile artist Bernie Murphy, from Buncrana, has found fame in her own right after working in fashion for 21 years at the Fruit of the Loom factory.
She went back to college to study textile art and, with her children reared, set up her own business where she handcrafts contemporary pieces from locally sourced tweed. "I am surrounded by colour, texture and inspiration from the blues and greys of the wild Atlantic ocean, to the fields and hills that suggest patchworks, lines and patterns," she said.
SOURCE : https://www.independent.ie/style/fashion/buyers-wooed-by-madeslow-ethos-at-fashion-show-36514295.html