15 Feb

Image Magazine
Irish Designer Bernie Murphy Makes Magic With Tweed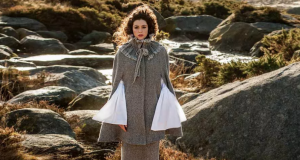 I love texture – cashmere, corduroy, faux fur and fringing – but I especially love tweed. There's something nutty about it's appearance that makes it unlike any other fabric, and there's a ruggedness to it that offsets the smoothness of silk beautifully and a utilitarianism that makes me want to partner it with something gratuitously beautiful, like sequins or tulle. So I was excited to meet with Irish textile designer Bernie Murphy last week and see first-hand her Homelands collection.
What's different about Murphy's collection to that of any other designer working with traditional tweeds? Separates made from zingy fuchsia for one thing; silhouettes that are stripped back and refreshingly contemporary; a traditional but super-sized hand-smocking stitch, which is her signature, and imbues her pieces with that wonderful blend of old and new. Simply put, she makes traditional modern.
The standout pieces for me are the Carnaghan Collar (all Murphy's pieces are named after townlands in her native Donegal). Beautifully crafted with an immaculate finish, it's a timeless piece that will freshen up any number of outfits. Plus, I love the rich blue hue, which is so complementary to Irish complexions.
Carnaghan Collar, €95
The Aileach Cape is another standout piece, for its perfect marriage of statement and simplicity. The clean lines, exquisite tailoring and minimal detailing are the perfect foil for this vibrant shade of fuchsia. The unexpectedness of this colour when applied to traditional tweed is what makes the piece feel so modern.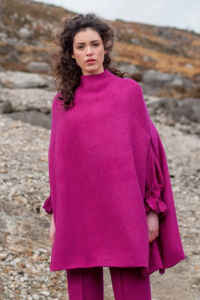 Aileach Cape, €385 
These high-waisted, pleat-front culottes are at the top of my wish list. They're a strong anchor piece for any woman's wardrobe because they can look laid-back when worn with trainers, or office appropriate when paired with a shirt and a sock boot.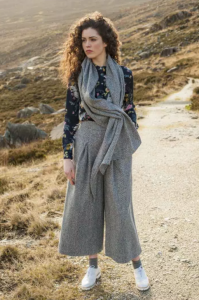 Glebe Culottes, €179
Pieces are made to order and Murphy can be contacted atBernie@BernieMurphy.com.
SOURCE: https://www.image.ie/fashion/irish-designer-bernie-murphy-makes-magic-with-tweed-110937