11 Oct

Cara magazine – October 2018
HOMEMADE
BEAUTIFUL NEW THINGS FOR A BEAUTIFUL NEW SEASON,FROM COSY SCARVES TO INVESTMENT FURNITURE.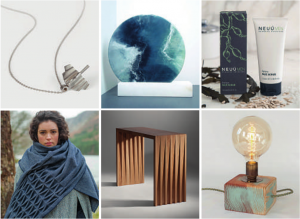 1. DYNAMIC DESIGN
It is no surprisethat Dublin jewellerEmer Robertshas an MFA insculpture: her ArtDeco inspired rings,bracelets, necklacesand earrings area masterclass inform, shape andspace. From €250 atemerroberts.com.
2. TIDE & SEEK
Resin, alabasterand ink are amongJenny McConnell'sgo-to materials,their multiplelayers creating theillusion of sound andmovement as seenand heard in nature.Price on request atjennymcconnelldesign.com
3. MARINE CORP
Seaweed oil andbotanicals havebeen harvestedand extracted byNeuú Men fortheir skin-plumpingand antibacterialqualities. The seven-piece range includesmoisturiser andshaving balm. From€21 at neuu.com.
4. KNIT WIT
A third generationknitter, textile aceBernie Murphy looksto the patchworklandscapes ofBuncrana, Donegalfor inspiration.The results? Soft,sculptural scarves.Pleated pashminasfrom €149 atberniemurphy.com
5. THROWN SHADE
Cillian ÓSúilleabháin'sTransformer tableis a winning frissonof organic materialand precisionengineering, that'sas exquisite asit is functional.Price on requestat cosfurniture.squarespace.com
6. BRIGHT SPARK
Working out ofhis Copper FishStudio in Wicklow,Eoin Shanley usessalvaged (and "stormfallen") wood andvintage-style ttingsto reinvigoratediscarded materialsinto beautifullamps. From €150 atcoppersh.ie