09 Nov

Aisling O'Loughlin
TWEED REIMAGINED There's nothing twee about this most enduring and durable fabric
Classic tweed has proven itself one of our favourite wardrobe staples and this season it is everywhere from the red carpet to cosy street style writes Aisling O Loughlin…
There's nothing twee about tweed these days. From Carey Mulligan's Erdem SS18 off the shoulder dress at the Harper's Bazaar Women of the Year Awards to Irish designer Bernie Murphy's reimagined Donegal tweed collars and capes, there's an air of reinvention about this most durable and enduring of fabrics.
Actress Carey Mulligan wearing Erdem S/S18  tweed dress at the Harper s Bazaar Women of the Year Awards Photo: Harper s Bazaar
We can thank the young Coco Chanel for taking tweed from gentrified country garb to the wider masses. As a lover of men's clothes and indeed men, Coco is said to have borrowed sportswear from her beau, the Duke of Westmister and been so impressed by the quality of tweed, she enlisted a Scottish factory to produce those iconic Chanel tweeds for her exciting new, liberating collections.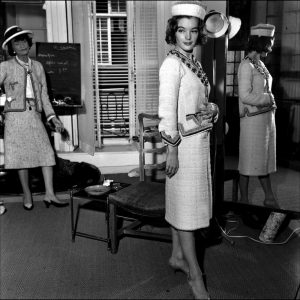 Archive image of Coco Chanel dressing actress Romy Schneider in one of her classic tweed suits  Image: Chanel Archives
Chanel switched factories in the 1930s to northern France and began combining her classic tweeds with wools, silks, cottons, and even cellophane to give them a high fashion edge.
Under Karl Lagerfeld, the tweeds are made at the House of Lesage outside Paris where up to 12 different threads used for a single warp
The weft – woven horizontally – gives the fabric its unique character and can have an unlimited number of threads.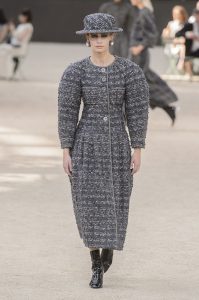 A new silhouette on a classic tweed look, Chanel Autumn Winter 2017
Chanel inspired budget buys are all over the highstreet with Penneys offering neat tweed style jackets and backpacks at bargain prices.
Donegal Designer Bernie Murphy's Inisowen tweed collar and cape €599 BUY HERE          Photo: BernieMurphy.com
These machines helped establish the homespun tweed industry in nineteenth-century Donegal, a heritage Buncrana born textile artist Bernie Murphy brings to her creations: 'My collections are designed to be worn or to be displayed.  My aim is to capture in my textile art suggestions of the natural environment that surrounds me – its unpredictable beauty and spirit – and reflect elements of the textiles and design skills that have been handed down across the generations in this unique region, my homeland of Donegal'.
Source: http://www.exquisite.ie/tweed/